Open 6:00 am – 10:00 pm Daily
Legacy Park is an expansive new outdoor space at Long Hollow Church that's open to the community seven days a week.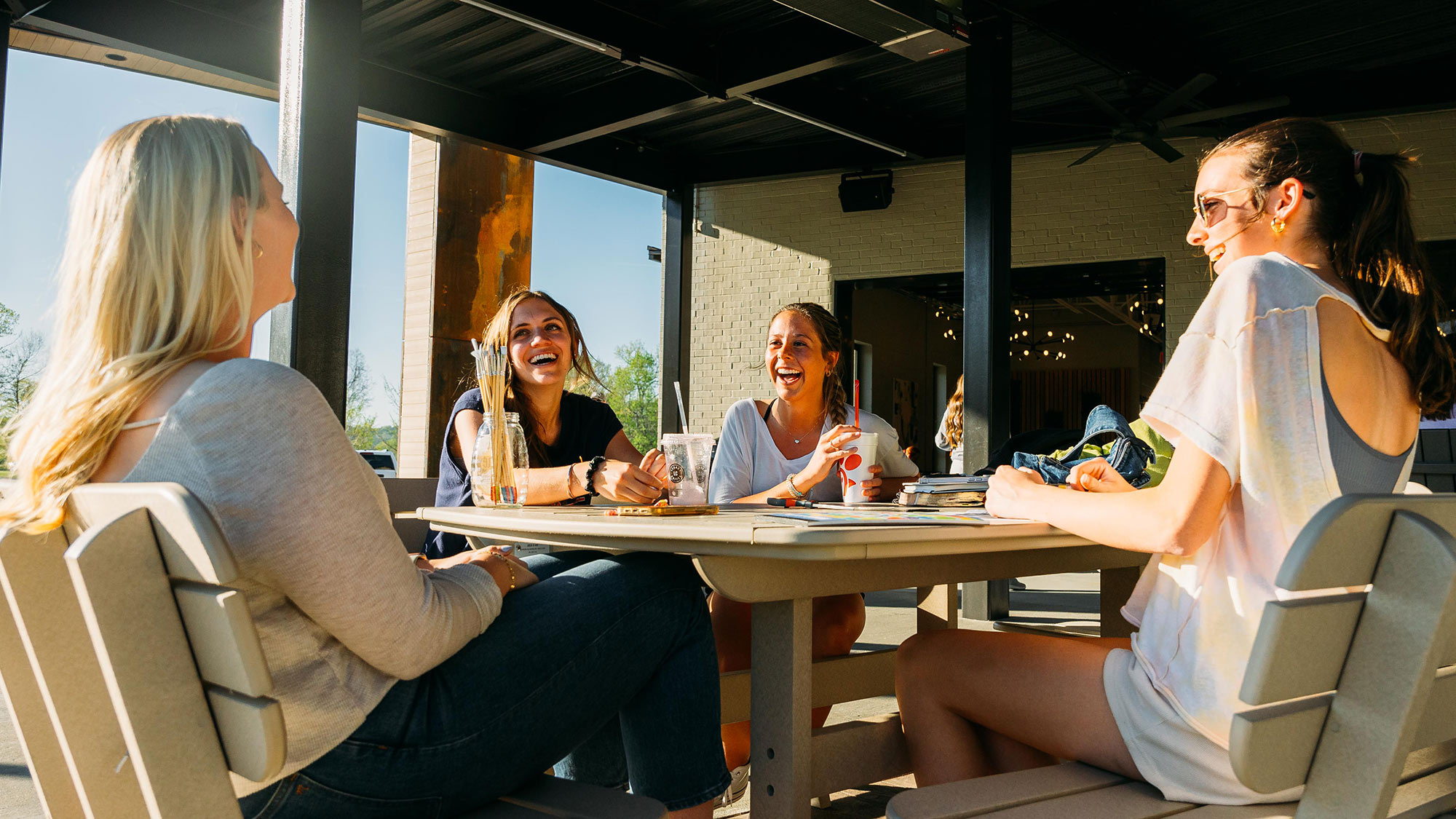 Room to gather (and spread out)
Everyone likes to unwind in their favorite spot. From picnic tables and chairs to fire pits and an expansive turf lawn, there are dozens of places throughout Legacy Park to hang out with your friends or set up shop with your laptop. 
A Place to Play All Day
Legacy Park is designed with kids in mind! Our large playgrounds for kids 12 and under feature slides, spinners, and a fenced-in, cushioned play area that's a hit with every family.
(Playgrounds may be temporarily reserved during church programming on Sundays and Wednesdays.)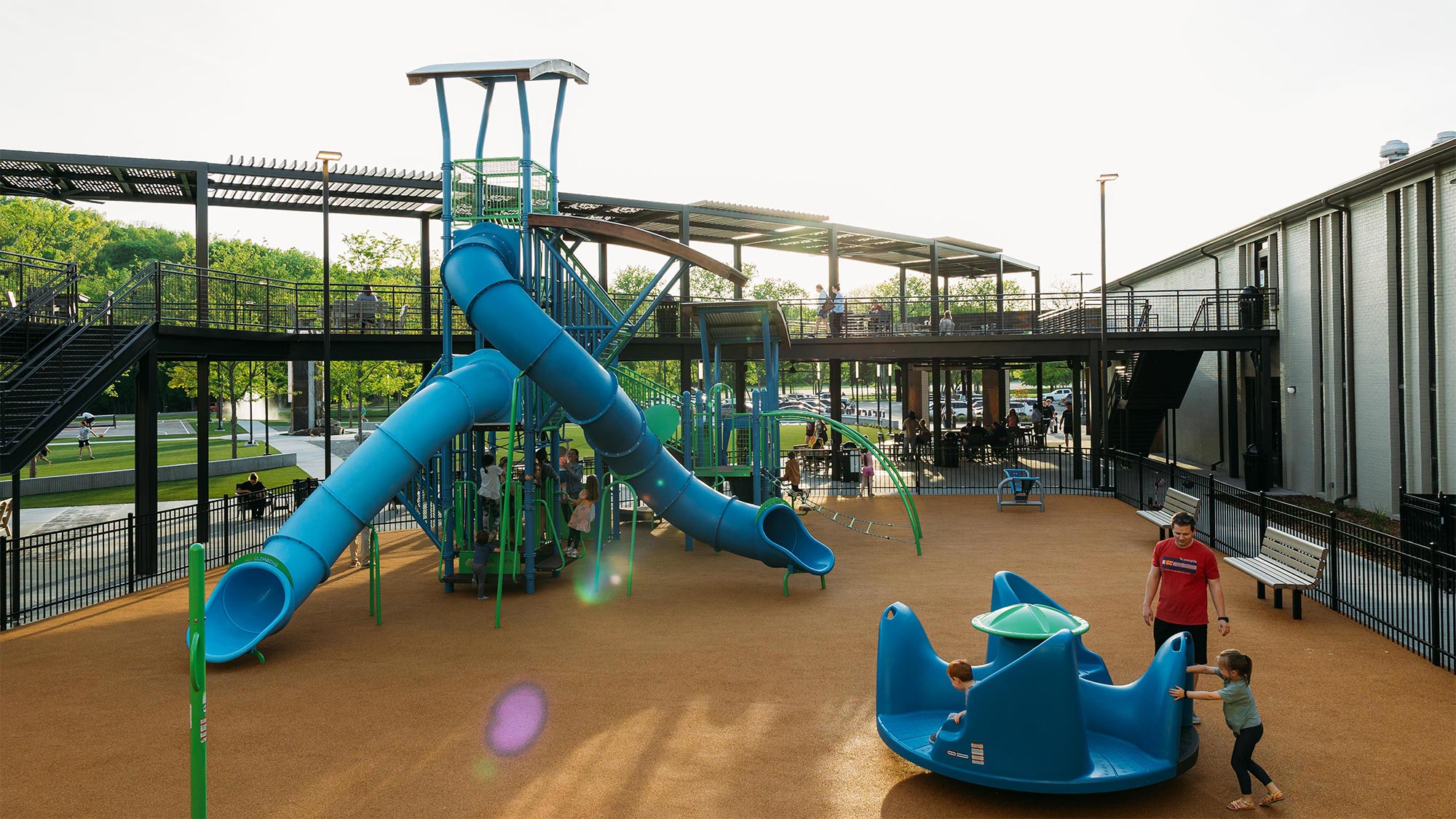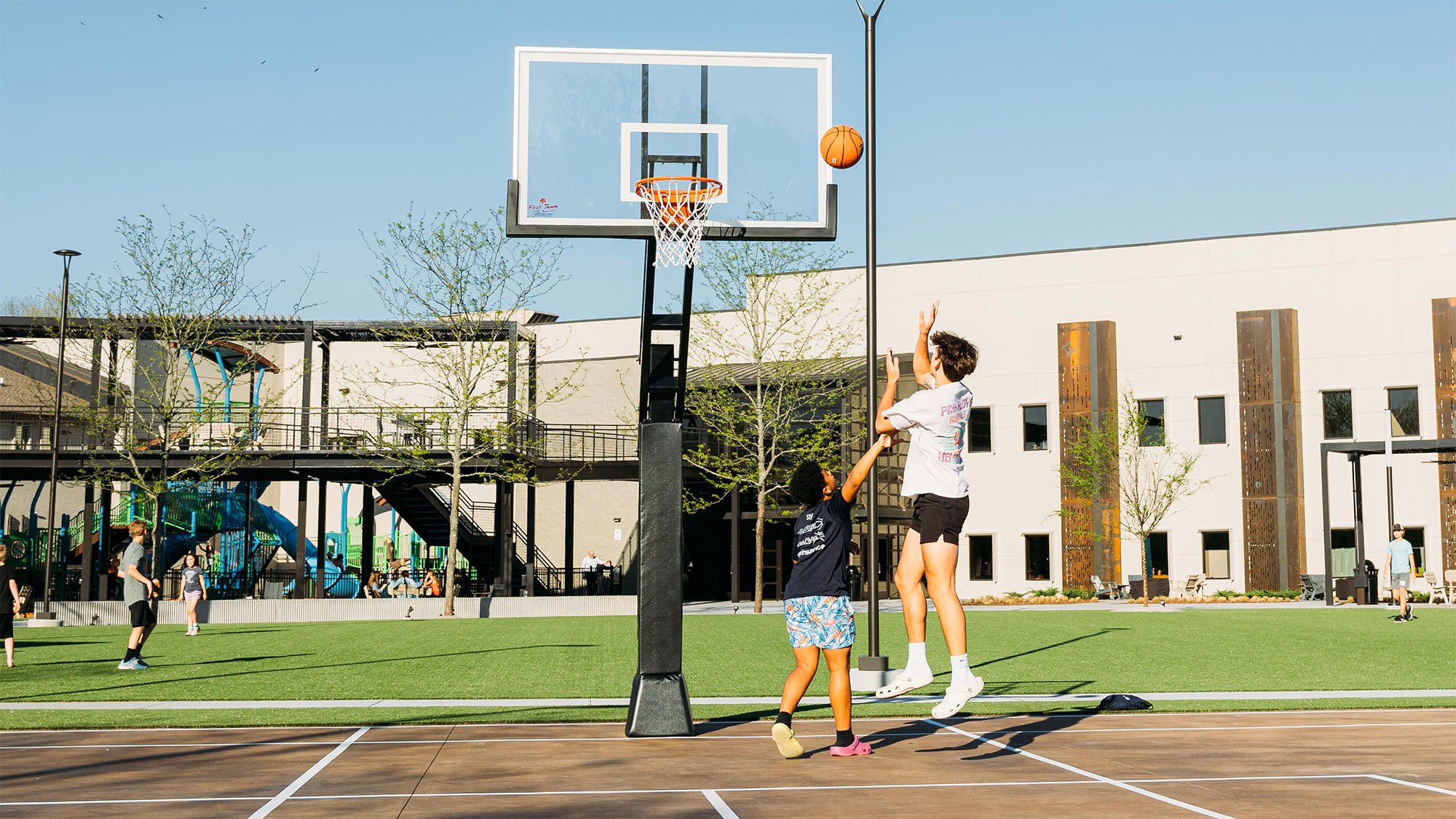 Basketball and Pickleball
The reimagined courts in Legacy Park feature two basketball courts and three pickleball courts that are open to the community daily.
Courts are typically set up for pickleball early in the day, and basketball in the evening. Paddles and balls are not provided.
Coffee For the Local Good
What makes a beautiful day even better? A great cup of coffee in your hand.
Legacy Coffee is located at the West Entrance to Legacy Park, and features a wide selection of coffee, drinks, and snacks to enjoy. It's open daily alongside of Legacy Park, so stop by today!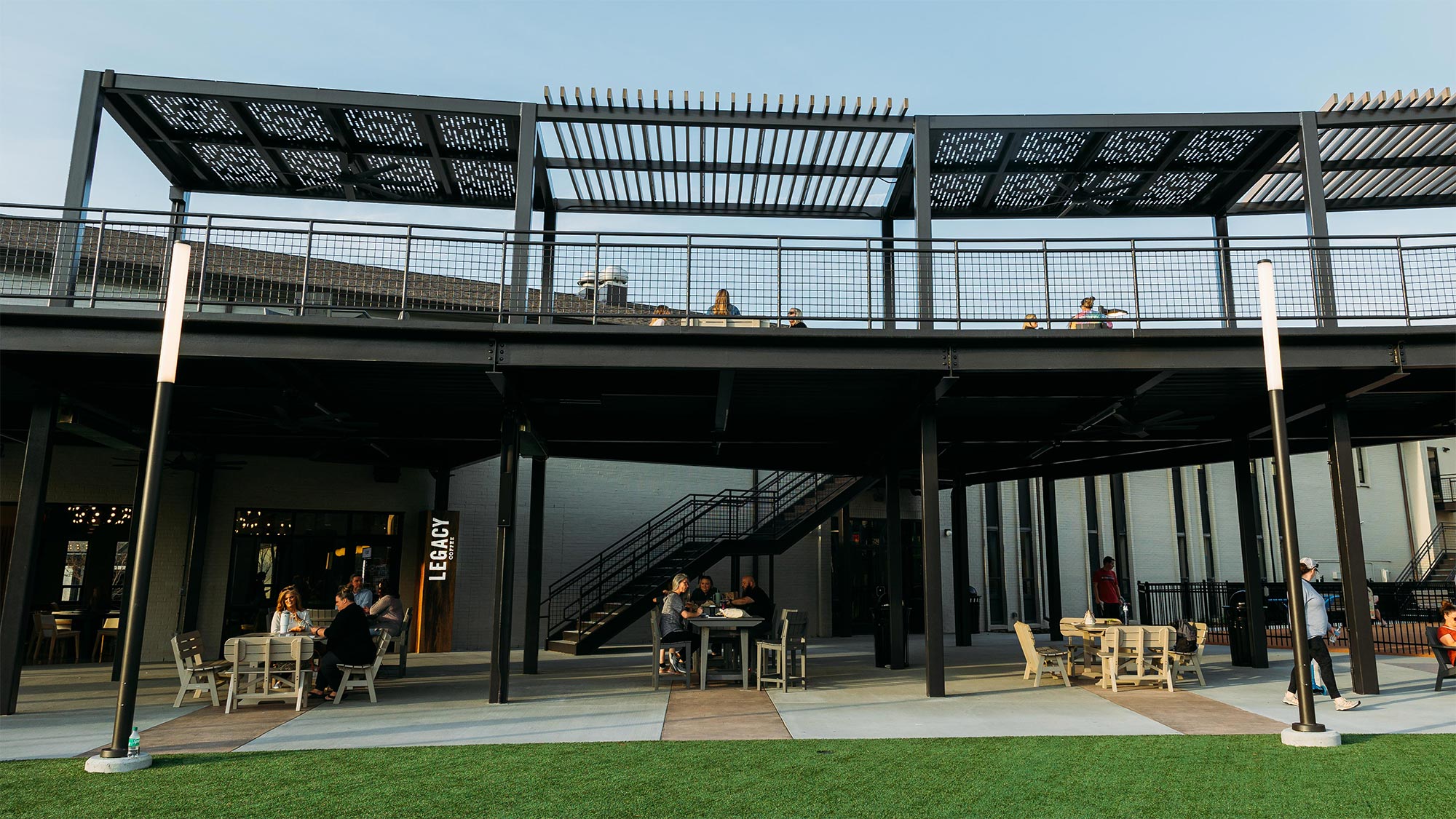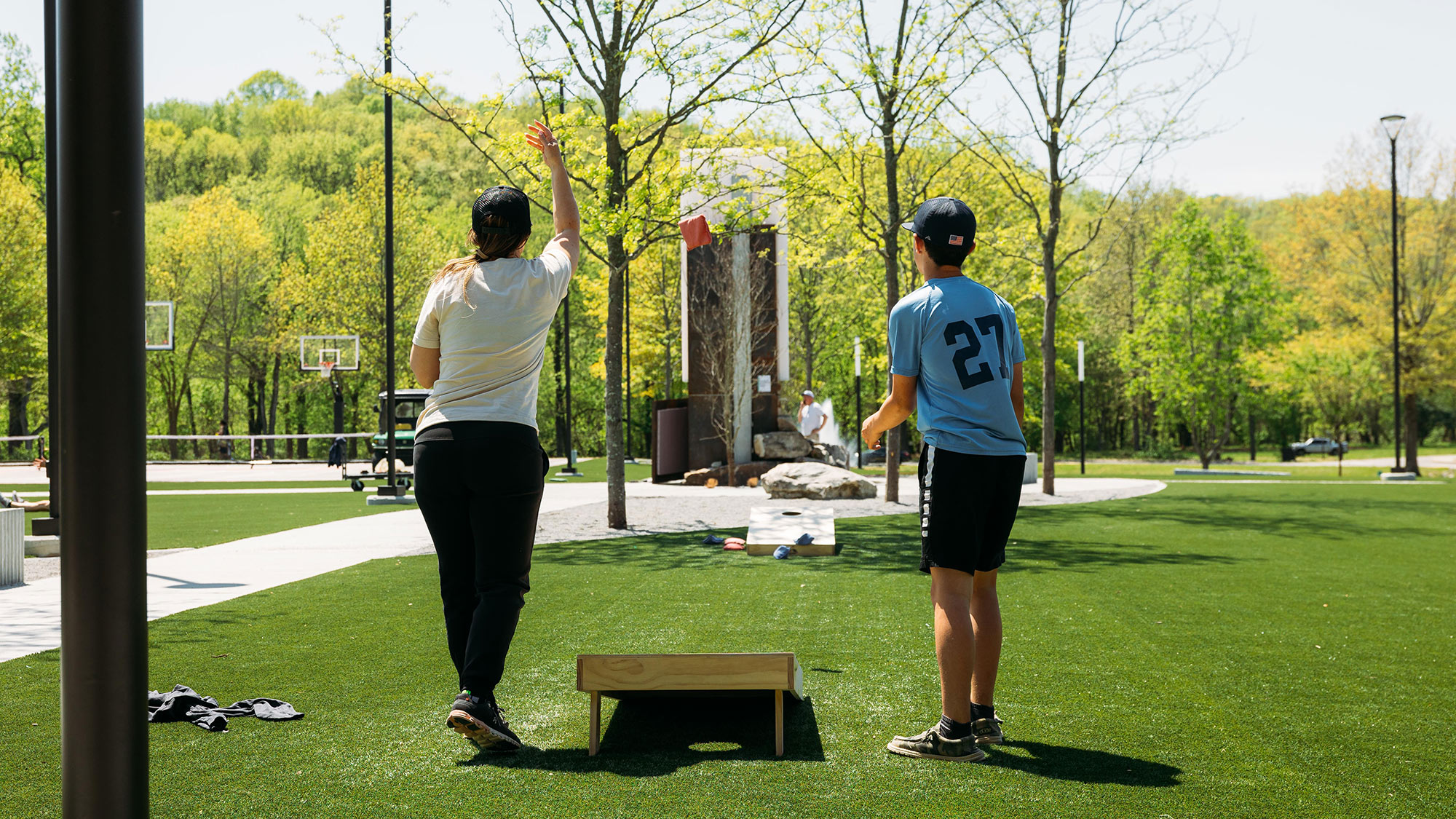 enjoy the outdoors with your family
No matter what you enjoy doing outside, there's a place to do it in Legacy Park. In addtion to playgrounds, basketball, and pickleball, there are also seasonal outdoor games and plenty of space to throw a football or have a picnic.
Fire Pits Available Seasonally
We want Legacy Park to be an environment the community can enjoy throughout every season of the year. In addition to a heated patio area outside of Legacy Coffee, the park also features 3 separate fire pit areas that are available seasonally. (Please ask a staff member if you would like to activate or adjust a fire pit.)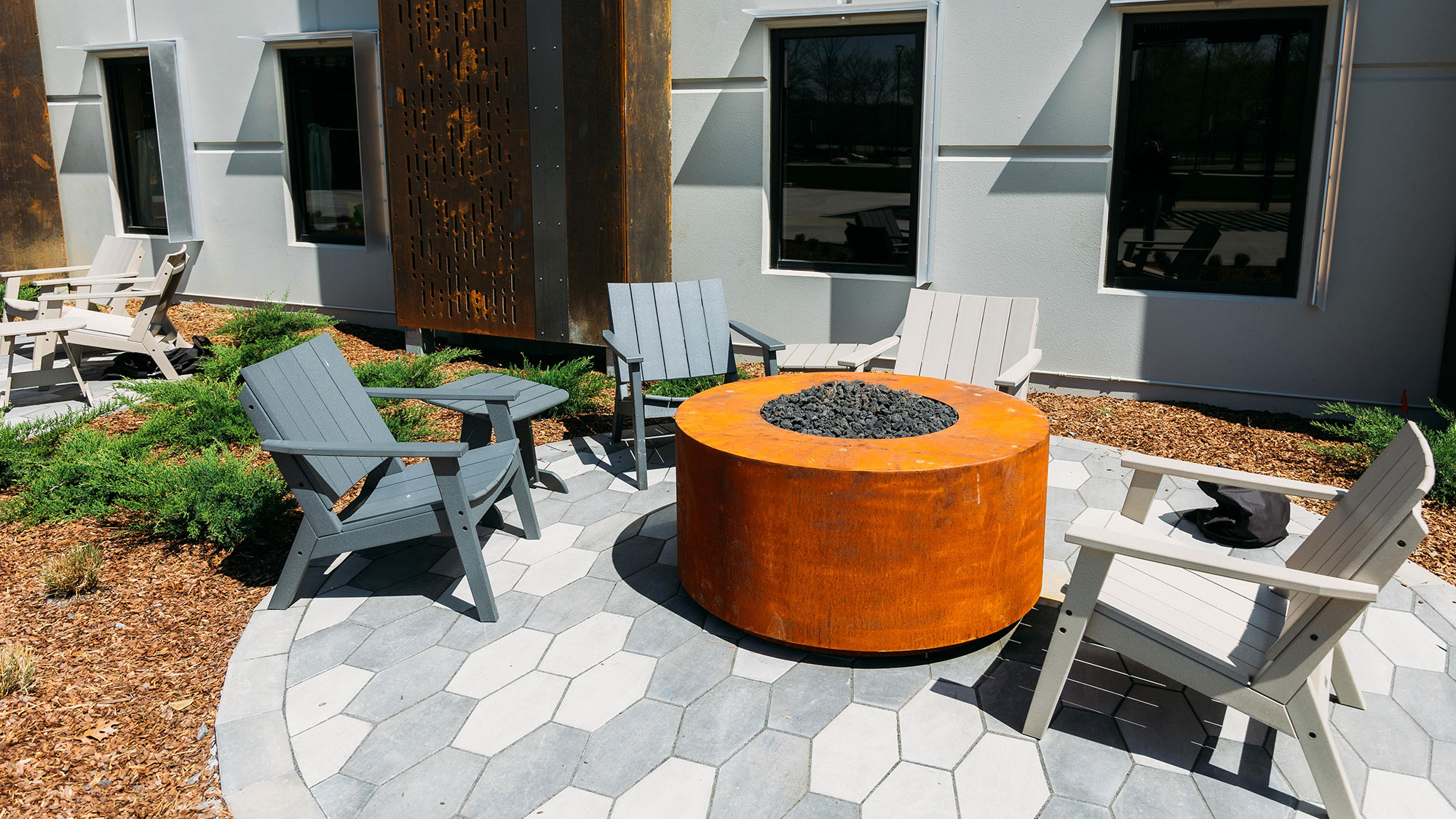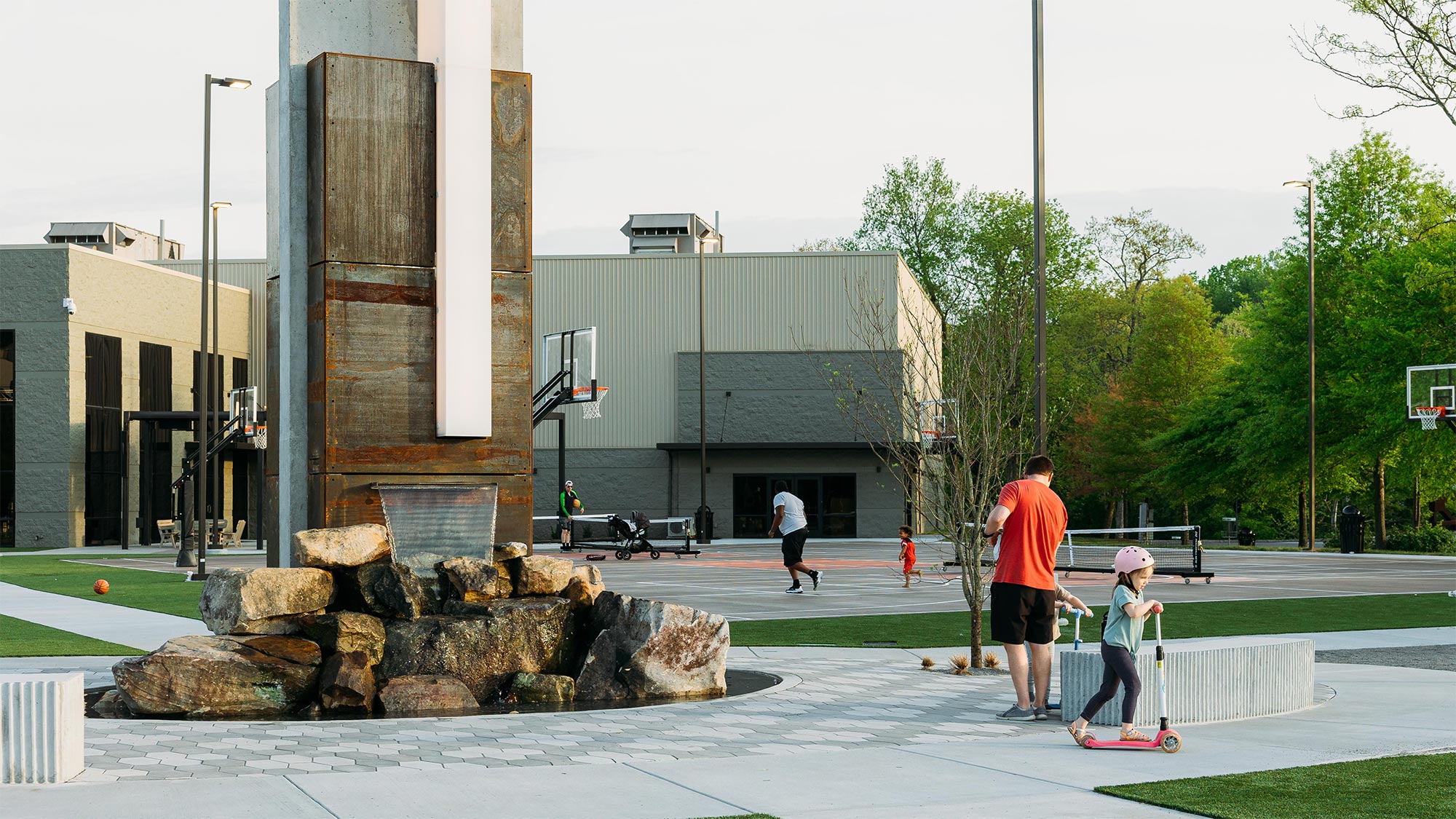 fast, free wifi for all
Legacy Park is a great place to relax, but it's also the perfect spot to work remotely or study with friends after school. Fast and free public WiFi is available throughout the park for your convenience. Just look for the guest network to get logged in.
Furry Friends Are Welcome (Just Bring a Leash)
If your well-behaved pet wants to come along for a visit, they're welcome to stop by as long as they're on a leash at all times and don't mind kids coming up to pet them. Please be considerate of others in the park, clean up after your pets, and don't allow them to use the bathroom on the turf.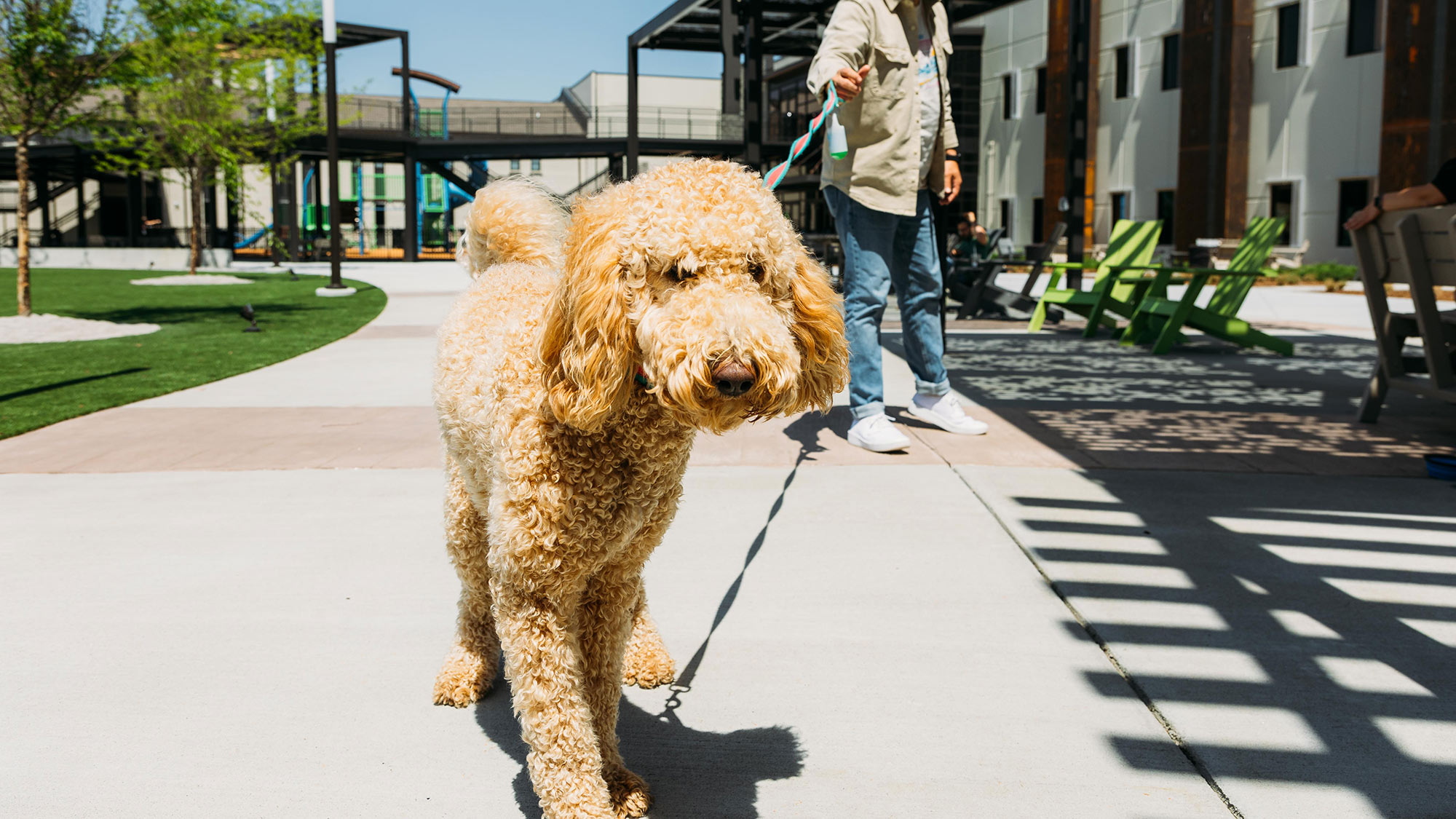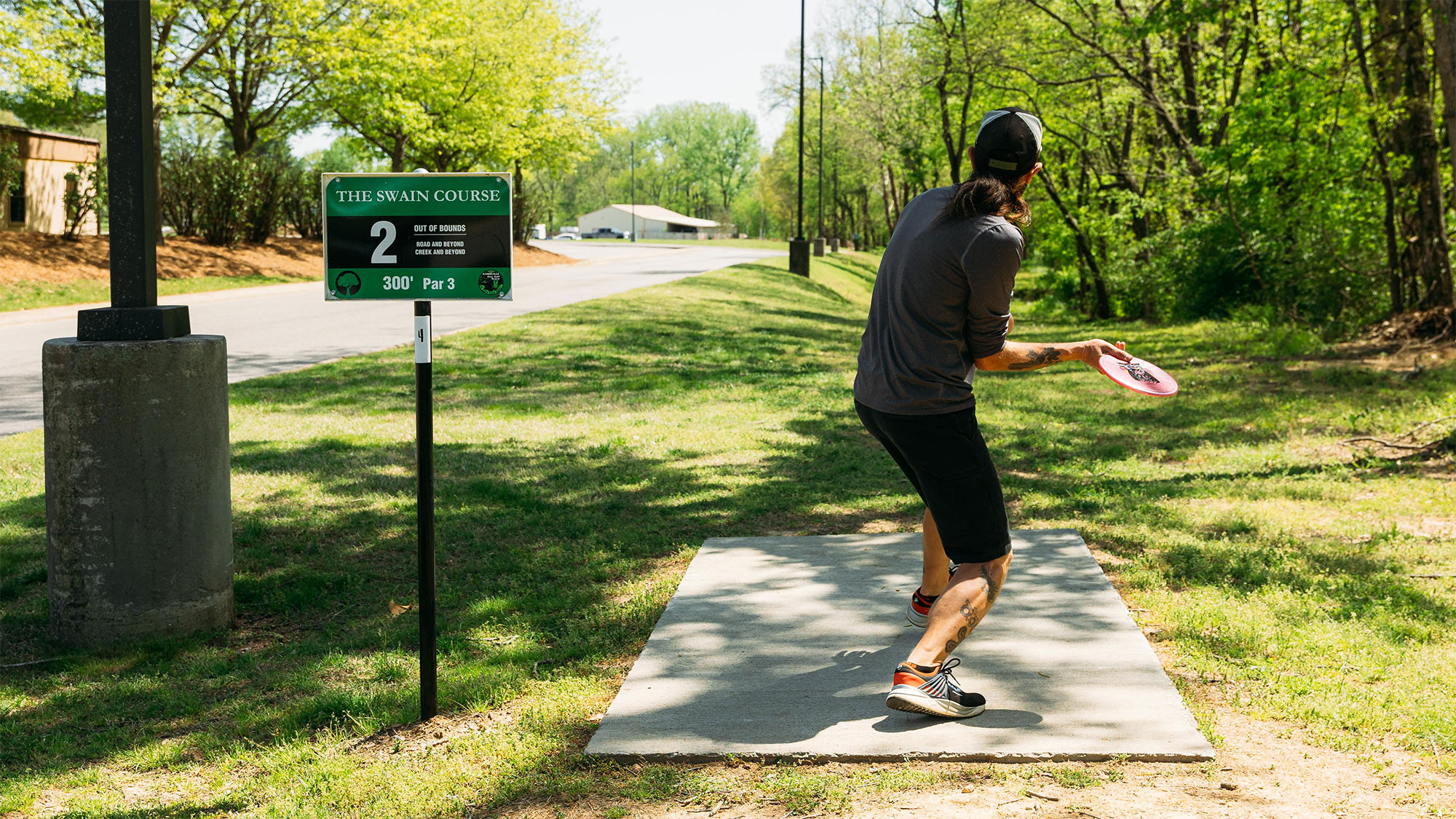 Play a Few Rounds Around Our Campus
In addition to basketball and pickleball, a professionally-designed disc golf course is located on the Long Hollow Church campus surrounding Legacy Park. Grab your discs, bring some friends, and play a round or two.
Park Guidelines
 Legacy Park is open daily from 6 am – 10 pm unless otherwise noted for special events.
 Courts are open to the public except during Sunday and Wednesday church programming. Paddles and balls are not provided.
 Playgrounds are open daily for kids 12 and under. Please supervise children at all times.
 Please do not enter the fountain pool or climb on the rocks.
 Free WiFi is available throughout the park – just look for the guest network.
 Leashed pets are welcome. Please clean up after them and don't allow them to use the bathroom on the turf.
 Feel free to bring your own chairs or blankets. Please do not move the existing park furniture.
 Outside food is welcome. Please clean up before you leave, using the provided trash cans. Alcohol is not allowed in the park.
 Public restrooms are available in Legacy Coffee during business hours.
 Fire pits and heaters are activated by staff only during the cooler seasons of the year.
 Appropriate attire is required at all times.
 Soliciting or promotional material of any kind is not allowed in the park.
Why Did Long Hollow Build Legacy Park?
Our church has enjoyed this beautiful campus for more than 40 years, but we thought it would be even better if it were open to the community more often. We built Legacy Park with the hope that everyone in the area would feel comfortable gathering to live, work, and play here every day of the week.
Whether you're looking for a place to catch up with friends and connect with your family, or even a spot to study and catch up on work, Legacy Park is for you.
Can I Reserve Legacy Park For My Party or Event?
Legacy Park is not open for reservations or outside events. Small groups such as Life Groups or birthday parties are welcome (with the exception of meeting during Sunday morning or Wednesday night church programming when the park is full). All areas and seating must be shared with other guests.
Please clean up any areas you use before you leave using the provided trash cans throughout the park. Confetti/confetti cannons are not allowed in the park, as the confetti is easily lodged in the turf. Please do not move or rearrange the permanent park furniture.
Is There a Coffee Shop There?
When Are the Courts Set Up for Pickleball and Basketball?
Pickleball and basketball share the same court area, so sometimes courts are set up only for one activity at a time.
Typically, courts are set up for pickleball in the morning and afternoon, and for basketball in the evening through the close of the park.
Courts operate on a first-come, first-to-play basis. Please be considerate of others who want to play. For example, if you want to play pickleball while others are playing basketball, choose one of the outside pickleball courts so there's room for others to enjoy a full basketball court.
Courts cannot be reserved for any outside function or league.
Courts are reserved for LH Students only on Wednesday nights from 6-9 pm.
Can My Life Group or D-Group Meet in Legacy Park?
Of course! Just remember that Legacy Park is always a shared space, so tables and other areas cannot be exclusively reserved for your group. By the way, this is a great opportunity to invite others to join you!
If you're meeting during busier times like Wednesday night, don't forget that Legacy Park can be pretty lively (in other words, it may get loud!).
Is Legacy Park Open During Church Programming?
Legacy Park is always open to the public, but some features of the park may be limited during weekly church programming or special events throughout the year.
For instance, the playground is closed from 9 am – 1 pm on Tuesday and Thursdays for our Weekday Preschool (during the school year), and sports courts are limited to LH Students on Sunday mornings and Wednesday nights.
Where Can I Use the Restroom?
Public restrooms are available in Legacy Coffee during their regular business hours.
Church restrooms are only available on Sundays from 7 am – 1 pm, and Wednesdays from 6 pm – 8:30 pm (or during other special programming). 
Can I Bring My Grill or Personal Fire Pit?
For safety reasons, no open flames of any kind are allowed in Legacy Park.
In the cooler months of the year, staff will activate the fire pits by the children's building and the overhead heaters closest to Legacy Coffee.
Have a question that you didn't see answered above? Feel free to reach out here and we'll get back to you as soon as possible.